Pavilions, Pergolas, and Awnings
Add Function, Style and Privacy With An Outdoor Structure
Outdoor structures are often used to feel truly in the outdoors while remaining under cover. These custom-made features are crafted with exceptional skill and quality, bringing charm and elegance to any setting.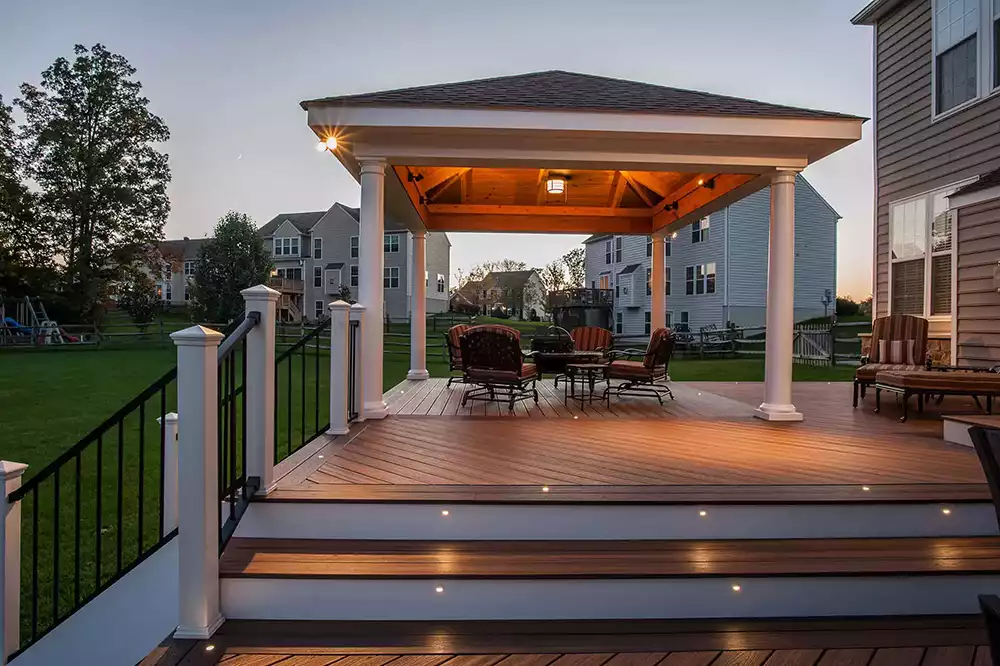 Overview of Outdoor Structures
Durable, attractive, and versatile materials are used to create stunning pavilions, pool houses, and pergola structures that complement various environments. From traditional to modern designs, these features are a wonderful addition to your outdoor living spaces. They offer lasting comfort, providing beautiful and functional outdoor rooms, ideal for entertaining, relaxation, dining, or even work.
Treat Your Family and Friends to the Comfort of a Backyard Pavilion
Having extra outdoor space can be a great asset when entertaining large groups. Although being outdoors is what we are all about, you may prefer some relief from the sun and rain. Add a pavilion to your backyard design. Combine your pavilion with an added fireplace, seating walls, curtains for privacy, lighting or ceiling mounted radiant heaters and enjoy your space into the cooler months.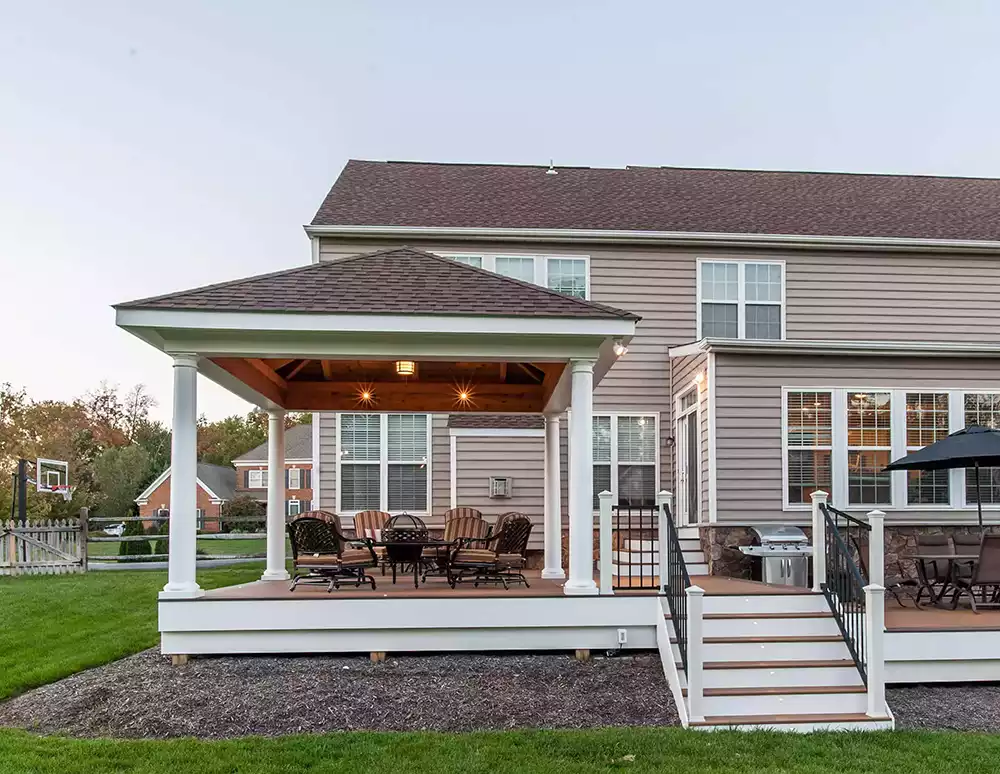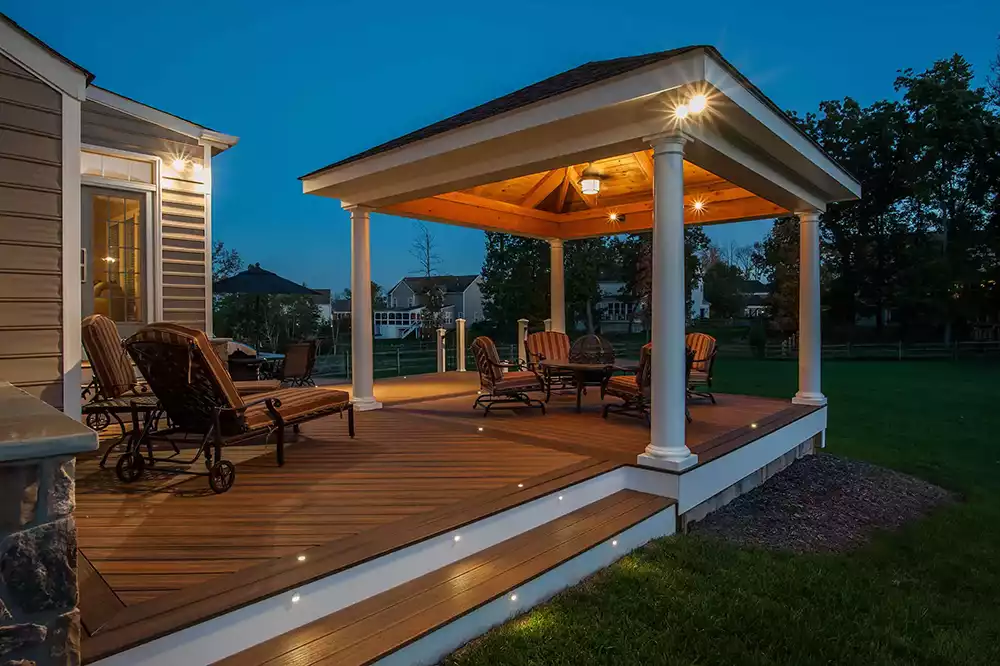 We can help put such a feature in your backyard. Designed to stand free of any supporting structures yet with a sturdy, covered roof to provide optimal protection and comfort, an outdoor pavilion can easily become the centerpiece of your landscape. Past clients have found them to be a terrific option at providing cover for other outdoor features such as:
With a more durable design, it's easy to incorporate features such as light fixtures and ceiling fans into pavilions, making them an ideal gathering area both during the day and at night.
Beat the Heat in Style with a Backyard Pergola
When the summer months really start to heat up, staying cool and comfortable often comes at a premium. The temptation is simply to retreat inside and crank up the air conditioning. However, it usually takes only a couple of months of outrageously-high energy bills to show that to be a poor long-term solution.
Adding some shade to your backyard or patio allows you to enjoy the outdoors without suffering from the sweltering heat. Yet rather than just slapping a simple patio cover onto your home, why not choose a structure that offers both function and style?
Pergolas vs. Other Shading Options
A pergola provides just that. Offering a series of open joists rather than a simple covering, a pergola offers a level of aesthetic quality that other covering options simply can't match.
One also offers customization options that allow for the addition of features such as:
Plus, a pergola is designed to be a free-standing structure, allowing you the freedom to place it wherever you please. Along with all of these added benefits, pergolas still can provide added shade by incorporating retractable canopies into their design.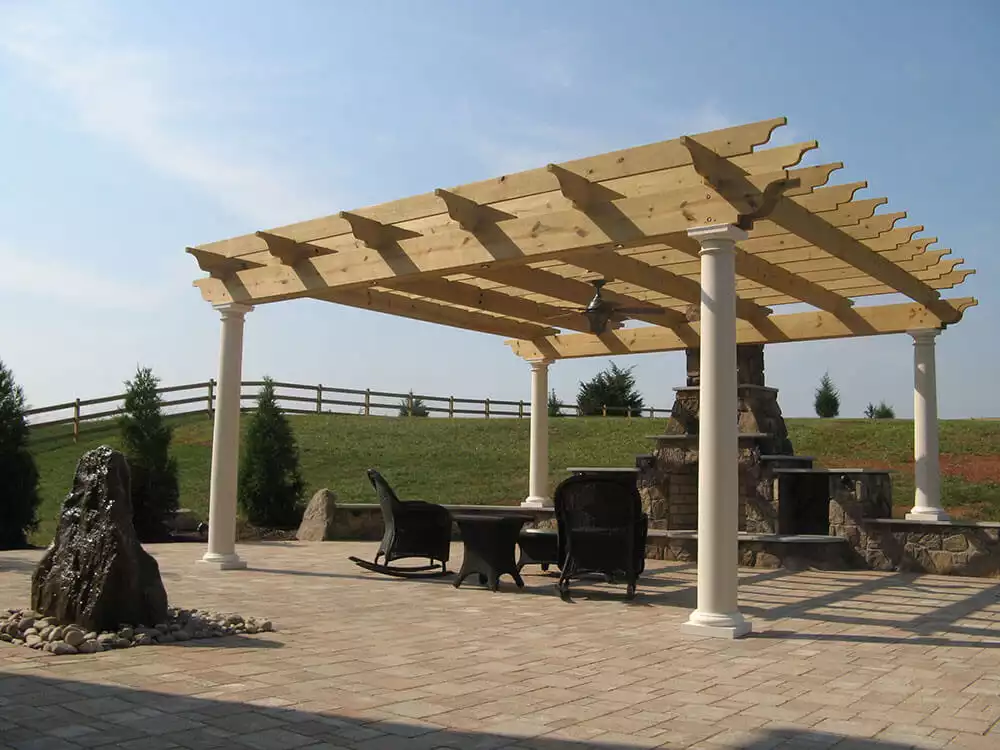 Transform your backyard into the ultimate outdoor oasis with the perfect shade solution. Consider the installation of a pavilion to bring both functionality and style to your outdoor space, providing you with privacy and protection from the elements.
To learn more about pavilions and discover the full potential of your outdoor area, get in touch with our experts at Holloway Company today.
Get in touch with our team of home and backyard improvement specialists. We're here to make your house a home with trusted products, services and more!